"As a lady in her late 50s I know all too well the hot flashes and other issues I'm facing as I age. This combination is amazing and I can't wait until it is commercially available."
Launching Soon!   Adding this to cart takes you directly to the checkout where a $1 reservation holds your spot to order our new cream at a huge discount on our soon to be announced launch day.
Innovative and Transformative
Felicity Organics Hormone Balancing Cream with Bio-identical Progesterone and Nano-Emulsified CBD. An unbelievably synergistic combination of two incredible ingredients.
Advanced Bioavailability: Nano-emulsified creates a more readily available formula that quickly impacts the body.
Highest Quality: From development, through manufacturing and packaging, we employ very strict quality control procedures. Our products are subject to a battery of quality assurance testing that is uniquely designed, and specially chosen for the application of nano-sizing CBD and Progesterone.
Organic Hormone Balancing Cream infused with USP Micronized Progesterone and Nano-Emulsifed CBD

Progesterone is the master hormone produced by the ovaries following ovulation. Women who are either sporadically or not ovulating at all are deficient in progesterone. A Bio Identical progesterone is just that, it is "identical" to your progesterone produced by the ovaries.
Progesterone in menopause and perimenopause – descriptions like irregular cycles, mood swings, insomnia, vaginal dryness and hot flashes among others are common to women nearing or in menopause and many women in their mid-30s may experience this. This is also occasionally accompanied by a decline in cardiovascular health and increased cholesterol.
Progesterone for younger women – normal progesterone levels create the environment for the implantation of a fertilized egg. Infertility may be a result of insufficient progesterone levels. If conception does occur, the ovaries continue to produce progesterone to supply the placenta and prevent pregnancy loss. Later in pregnancy, the placenta begins to produce its own progesterone in even greater amounts. A drop in progesterone level in pregnant women can result in miscarriage. For younger women, the monthly can be so much easier to handle with sufficient progesterone levels.
Felicity Organics Bio-Identical Progesterone Cream combines a patent pending formulation with the potential synergistic effects of CBD. We know that CBD has a calming effect, increases blood flow (vasodilation) and reduces inflammation through TNF Alpha (molecule) reduction.
Neurochemistry changes – as hormones decrease, they affect serotonin levels/receptors (the feel- good hormone) CBD activates serotonin receptors and increases neuroprotective mechanisms and increase synaptic plasticity which will offset mood swings and depression for some.
Inflammation – as hormones decrease, levels of inflammatory molecules increase, specifically TNF – Alpha (tumor necrosis factor), this has been linked to cognitive problems and decreased bone density. Rid the body of the inflammatory molecule and the body can return to normal. High TNF – Alpha have been observed in bone loss. CBD may lower the levels of this inflammatory molecule and reverse bone loss
Potent vasodilator – CBD is also a potent vasodilator, increasing blood flow to the pelvic region, which in turn moisturizes the vagina canal; and as an anti-inflammatory relaxes the muscles and calming pain perceiving sensory nerves in the vulva and the vagina, with increased libido / sex drive.
Felicity Organics Hormone Balancing Cream is the world's first and only pure, organic, bio-identical hormone balancing cream.
Between 50% and 75% of women experience some form of imbalance with respect to hormones.  From young women with issues as diverse as PMS, mood swings, irritability and infertility, to older women dealing with hot flashes, reduced libido, bone loss and a multitude of other conditions related to hormones.  Many of these challenges can be directly correlated with the balance of progesterone to estrogen. 
Felicity Organics Hormone Balancing Cream is the supplement designed to restore balance with the synergistic benefits of USP Micronized Progesterone and Nano-Emulsified CBD.   Nano-emulsifying reduces the particle size to more than a millionth of its normal size providing greater absorption in the body. 
The formulation is designed to ease various symptoms of hormone imbalance including weight gain, sleep disruption, irritability, vaginal dryness, low libido and other menopausal symptoms, as well as symptoms of Polycystic Ovarian Syndrome (PCOS) like menstrual irregularity, weight gain, thinning hair, acne, infertility and insomnia. 
An Organic, Power Packed Formulation
Ingredients:  Organic Aloe Barbadensis Leaf Juice, Organic Alcohol, Organic Carnauba Wax,  Organic Glycerin,  Organic Butyrospermum Parkii (Shea) Butter, Organic Cocos Nucifera (Coconut) Oil, Organic Helianthus Annuus (Sunflower) Seed Oil, Organic Prunus Amygdalus Dulcis (Sweet Almond) Oil, Organic Theobroma Cacao (Cocoa) Seed Butter,  Sambucus Nigra Fruit Extract, USP Micronized Progesterone, Cannabis Sativa Extract (Nano-Emulsified CBD), Xanthan Gum, Sodium Citrate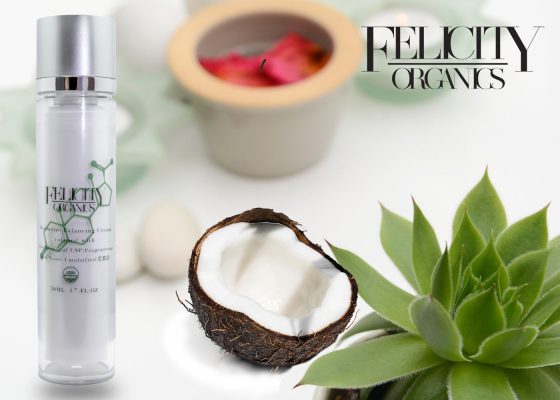 Only logged in customers who have purchased this product may leave a review.